Physcomp: week one
Components:
Physical Computing is like interaction between brain, hands, bodies and electric system to me, and convert on energy into another. So start from the basics, I got the Arduino, breadboard, and some wires in class, and gather the other parts for the labs from the shop.
︎︎︎
Setting up and Powering the Breadboard:
To power the breadboard, I use Arduino and connected with my computer as the power source, and use jumper wires to connect the circuit.
︎︎︎
LED circut, without a switch:
It took me a while to make the LED light, because I put the resistance behind the LED, and misconnect the wires.
During this part, when I added a switch, the switch wont control the LED.


︎︎︎

LED circut, with a switch:
Then I tried a bunch of times and figured out the current go abcde and fghij directly on the breadboard, so I cant connect the switch and other components in one line. So the current needs to bypass the switch in order for the switch can control the light.


︎︎︎
parallel LED circut, without switch:
Arduino supplies only 3.3V across the board and that is why it cant hold a series circut with two LEDs.
However I tried the parallel circuit, added one more line, its working but the LEDs was not that light than one LED circuit.
︎︎︎
parallel LED circut, with two switchs:
After that, I added switches into each lines, the LED on the right blew up several time may because of the same reason that the Arduino cant hold two LEDS.
︎︎︎
Variable Voltage:
At last, we use a potentiometer to generate a changing voltage. First, I soldered the wires on the potentiometer, then connect the one wires to the negative the other one to the positive, the third one on the breadboard, after this connect all the other wire to complete the circuit.
︎︎︎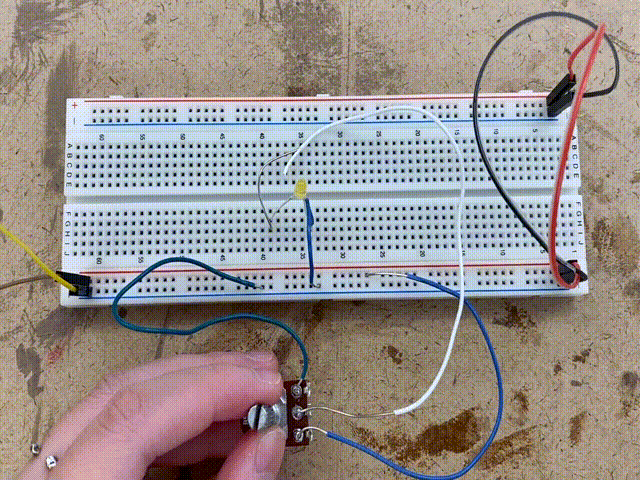 Conclusion and Questions:
For these switch circuit, I used Arduino, jumper wires, one/two switchs, one/two LEDs and 220-ohm resistance other than the set breadboard. Understoon that some power source cannot hold a certain amount of components.
Still a little confused about how Arduino and breadboard work, and need to catch up some physics 101.
three LEDs in Parallel it only light up two:
︎︎︎